• Catalan club's third offer includes a remarkable £36.6m in add-ons
• Coutinho emailed transfer request to Liverpool last Friday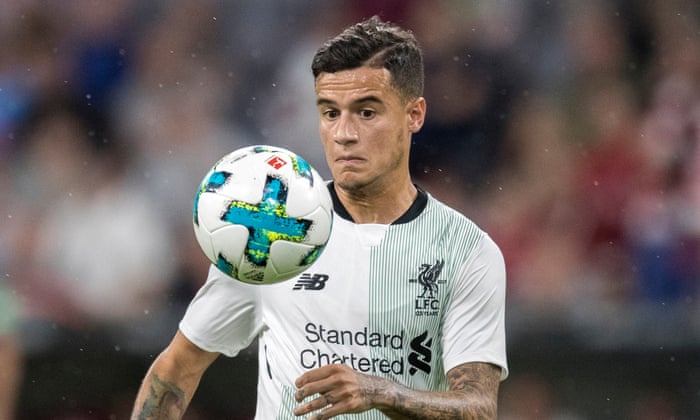 Philippe Coutinho has not played yet this season because of a back problem.
Liverpool have again underlined their determination to keep Philippe Coutinho by rejecting a deal worth up to €130m (£119m) from Barcelona for the unsettled Brazil international.
Barcelona's third attempt to prise Coutinho from Anfield constituted a guaranteed €90m (£82.3m) plus a staggering €40m (£36.6m) in add-ons, an increase of €5m and €25m respectively on their previous offer. The Spanish giants made an anticipated third bid on Friday having been encouraged by the transfer request the 25-year-old emailed to Liverpool's sporting director, Michael Edwards, one week ago.
Coutinho's transfer request followed a statement from Liverpool's owners, Fenway Sports Group, that declared the playmaker would be staying at Anfield beyond this transfer window. But his attempt to force a move, or the latest offer from Camp Nou, has not altered FSG's resolve to keep the Brazilian at the club.
As was the case with Coutinho's transfer request, Barcelona's initial offer of £72m and their second bid of £90m, Liverpool responded to Friday's approach with another instant rejection.
The Spanish giants are willing to part with over half of the money they received from Paris St-Germain for Neymar to land his compatriot this summer but, as the manager, Jürgen Klopp, has repeatedly stated and FSG have also clarified, Liverpool consider there is no deal to be discussed.
Pep Segura, Barcelona's manager of sport for football, maintained in midweek that deals for Coutinho plus the Borussia Dortmund forward Ousmane Dembélé "are very close". Segura's comment, as with previous reports about Barcelona delegations flying into London to seal the Coutinho transfer, caused bewilderment at Liverpool where club officials have not entered into negotiations over a transfer or agreed to hold any.
Klopp believes Barcelona's interest –though established before the end of last season – came too late in this transfer window for Liverpool to contemplate selling their influential playmaker. The Liverpool manager is also adamant his club do not need the money despite their own frustrations in attempting to sign Virgil van Dijk and Naby Keïta from Southampton and RB Leipzig respectively this summer.
The expectation at Liverpool is that, as with Luis Suárez in 2013, Coutinho will react professionally to their refusal to sell once the transfer window has closed. The alternative would be counter-productive for the Brazilian with a World Cup awaiting next summer.
Coutinho signed a new five-year contract at Liverpool only last season that contains no release clause. He has missed the start of the Premier League and Champions League season for Klopp's side due to a back injury and will again be absent when Crystal Palace visit Anfield on Saturday.
The Guardian